Thursday, July 15th, 2021, SalesNexus released updated versions of it's mobile apps for both iPhone and Android.
HERE'S WHAT'S NEW
Ability to add new contacts on mobile
Add new contacts to your contact list, straight from your phone!
To do this, simply go to your contact list, click on the "Add contact" icon on the upper right hand corner of your screen, and fill out the form with details for your new contact.
Html content in contact's notes now displays properly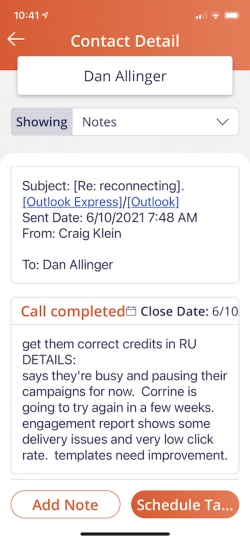 You can now view the notes in your contacts properly – they will no longer show up as HTML code.
To check this, simply choose one of your contacts from your Contact List, click on "Details", and then "Notes." You should be able to view those notes as written text.
Email links content in contact's notes can now be viewed within the app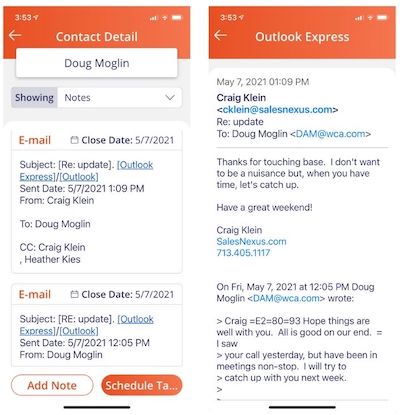 Now, if you have inserted an email link in the notes of a contact, you will be able to view and open that easily from the app.
All you have to do is go to the contact's notes and click on the underlined link. It should open up that email for you.
BUG FIXES
User interface enhancements
Fixed problem where user is unable to recover from network loss. Now, if you encounter a network problem, you will be able to tap a button to reload the page.
Improved activity indicator and timing when searching or refreshing in contact list, specially when recovering from error.
Improved delivery of activity information about users' actions. You will now know exactly what's going on as you will be notified as soon as an action has started, has failed, or has successfully been completed.
When the session expires, you will automatically be logged out, just as you would on the website.
Improvements on the display
Now it's easier to navigate around the SalesNexus mobile app! We've fixed the following bugs so that the displays are front and center, cleaner, and easier to find.
The login page now asks for your email address instead of your username.
We have improved the layout so that the margins fit nicely, the notifications and error messages are centered, and you can easily scroll to see all the items on your screen.
When completing the task, the results fields are conveniently opened for you so that you can readily select an option.
You will now see the name of the Record Manager instead of code (user ID).
Additional Bug fixes
Fixed bug where sometimes the contact details are missing certain layout details.
We've removed some of the redundancies in the input fields (the input placeholder text have been removed).
Fixed clearing tasks with follow up changes display the wrong duration.