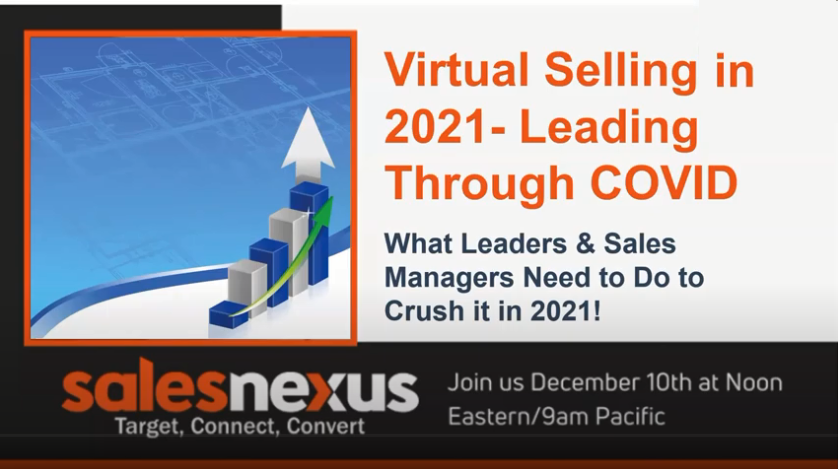 ---
In this webinar, Craig Klein and Steven Rosen discuss the different ways we can be successful moving into next year. As the year draws to a close we have to assume that the changes we have had to adjust to this 2020 will remain until this pandemic is over. With that, they have come up with strategies and tips on how to not just survive – but thrive, in 2021.
Our speakers are Craig Klein, the CEO of SalesNexus; and Steven Rosen, an experienced and well-respected Leadership Coach and founder of STAR Results.

What Has Changed?

We begin this process with a reality check, by acknowledging where our reps are at by having a look at things from their perspective.
Although we may not be in the same boat, we have all been impacted by the pandemic. For many of our sales representatives, their worlds have been turned upside down and they have had to adjust to many uncomfortable changes. Reps who had been accustomed to driving around and meeting with clients have had to shift to working from home and virtual selling. All these modifications are bound to make them feel isolated, anxious, fearful, and uncertain of the future. This can cause undue problems to sales leaders, as it changes the way we conduct business. However, we can look at those who were able to creatively navigate through these challenges, and use them as a source for best practices.

---
What Hasn't Changed

You still need to find ways to maintain and grow your existing business, so your revenue targets and expectations aren't likely to change.
You also need to push forward and develop new business.

Although things have not changed in terms of WHAT we need to do, HOW we do things is going to be different in this new normal.

Sales is all about finding ways to adapt and respond to survive in new environments.
How to Crush it in 2021
With everything still up in the air with this pandemic, it's best that you focus on the things you CAN control as a sales leader.

Watch the video to learn more Steven's framework to not just survive, but thrive in the coming year.

You're getting your data enriched, you're getting new data, and you're getting a email marketing campaign created, and we're sending it out for you. All you have to do is tell us who you're targeting, and tell us enough to create the emails. Then all you have to worry about is responding to the lead.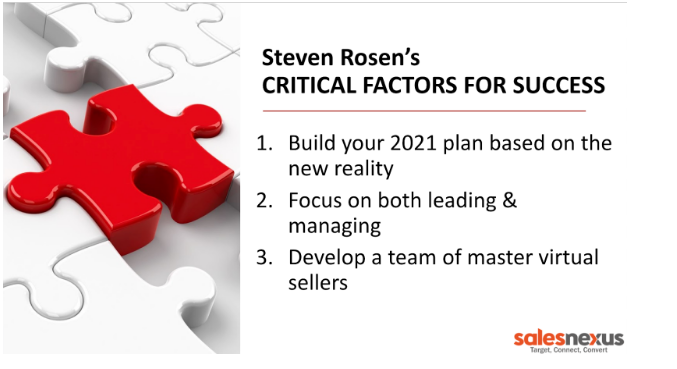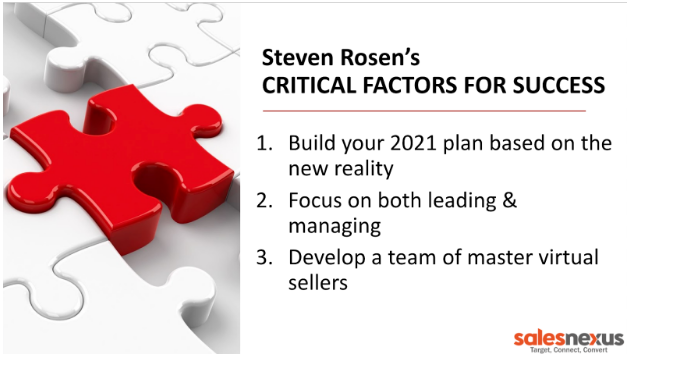 You can also find out more on What sales managers need to know about going virtual – What CEO's and Managers need to know and Marketing and Selling from Home